Providing external support for IT incidents
Prep for IT incidents with external support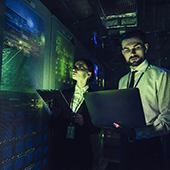 Regardless of your best office IT strategies, it's nearly impossible to thwart every type of cyberattack. And when they do happen, most businesses depend primarily on their internal resources and personnel. On the other hand, some organizations have realized the risks and complexities involved and have sought external support from leading industry specialists. Here are reasons why you should, too.
Access to new technologies and industry experts
Managed Services Providers (MSPs) are equipped with resources most small businesses can't afford. They employ teams of experts in fields ranging from cybersecurity to data management to networking — all available for you on an outsourced basis. For example, an MSP provides advanced security software and applications that can help your business avoid the risks of cyberthreat.
Also, they receive insight into upcoming hardware and software products from industry leaders. As a result, you'll receive the latest recommendations on the latest technologies you can implement in your business, and you'll often receive discounts and deals you wouldn't normally get.
Knowledge from past breaches
External IT support providers have been helping businesses recover from all kinds of tech disasters since the dawn of hackers. They now have enough knowledge to prepare Data Backup and Disaster Recovery plans for you. This way, you and your team would still be up and running after suffering from an IT emergency without disrupting much of your business operations.
External support providers' experience with data protection will ensure your systems are monitored around the clock so your security systems are always functioning properly to keep cybercriminals at bay.
Run your business with ease
You don't specialize in technology, so you don't have the skill or experience in dealing with digital felons. You also know how vulnerable your business is online and won't dare do anything to jeopardize it. That's why external support is such a great asset — you'll be able to manage your business without any worries because your external IT provider will keep it protected.
In the end, you also have to be cautious in your search for an external support provider. Conduct your research thoroughly, read through all their testimonial pages, and verify whether their business objectives coincide with yours. To put your mind at ease and to make sure that your business's technology is in good hands, you can always send us a message and we'll provide you all the references you need.