iPhone or Android phones?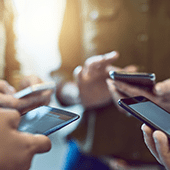 Choosing a mobile phone for your business is not as easy as it sounds. You no longer rely on it to make and receive calls with clients but also to access valuable apps for remote working. To help you decide between android and iPhone, our specialists gathered the primary aspects to consider.
Price Range
Apple is a luxury brand, and the only way budget-conscious businesses can afford an iPhone is if they consider the secondhand market or rely on older models. But of course, you would rather get a new phone that hasn't been through previous repairs, carrying recurring problems, and one that isn't outdated for app compatibility. Android is widely available for small-business rates and obviously triumphs in this category.
Winner: Android phone
Security
Surely, there is a reason why iPhones cost so much. Apple products in general are known for their exquisite form and finish, which definitely adds to the cost, but don't forget that Apple also places much emphasis on security.
For instance, Apple is more strict about the apps it allows into the App Store when compared with Android. Nevertheless, both are still susceptible to malware, so try to be more cautious when downloading dodgy apps or programs.
Winner: iPhone
Customizability
Android has always been superior when it comes to personalization. You can easily change the theme of the phone, modify the home screen layout, add shortcuts and widgets, and even alter the user interface using launchers.
With an iPhone, you may have the freedom to set backgrounds but there's still restricted support for widgets. And as mentioned before, Android is laxer in allowing third-party installations for your default options. So if you think your company would benefit more from a personalized look, Android is the platform for you.
Winner: Android phone
Voice Assistants
Siri may have wowed the public when it was first introduced, but Google Assistant has stayed true to its name as it progressed. The former remained basic by simply answering questions while the latter introduced several features, including seamless integration with other apps to make your life more convenient.
For instance, if you have a meeting set in Google Calendar and Google Maps received a notification about the growing traffic in the area, Google Assistant will calculate the time it takes for you to get there and alert you beforehand.
Fortunately for iPhone users, this virtual helper is also available on the App Store. Guess we can conclude that it's a win-win for both mobile OS, then.
Winner: Android and iPhone!
Ultimately, the perfect phone for your business depends on your particular requirements. Both Android and iPhone devices have their own set of benefits and drawbacks, which is why it all boils down to which of the aspects listed above would help boost your business.
But if you're still confused between these two choices, just give one of our licensed technicians a call! We'll conduct a free assessment of your IT framework to provide unbiased suggestions.