5 steps to enabling virtualization
5 steps to enabling virtualization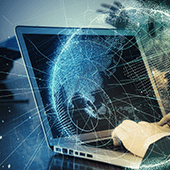 Keep in mind that virtualization is one of the most effective ways to significantly reduce IT expenses, while simultaneously increasing efficiency and flexibility. But are issues hindering you from enjoying virtualization on your PC? Here are detailed answers for you to fix these problems.
#1 Enable Virtualization in Your BIOS
In most cases, virtualization won't work because it's disabled in your computer's Basic Input/Output System (BIOS). Though most modern computers support the feature, it's often disabled by default. Thus, you should take a look to make sure it is enabled on your computer.
#2 If You Don't See It – Update Your BIOS
If you don't see an option for virtualization in your BIOS, there's a chance the manufacturer has provided an update that includes it. This may not be the case for all machines, but it doesn't hurt to check.
To find a BIOS update, you can use the manufacturer app included with your PC or manually search the internet for it.
#3 Disable Hyper-V
Professional editions of Windows include a Microsoft program called Hyper-V. This is Microsoft's own virtualization software, like Oracle's VirtualBox or Dell's VMware. Unfortunately, Hyper-V can hijack your computer's virtualization privileges, blocking you from using other virtualization apps.
You don't need Hyper-V unless you really want to use it, so removing it from your computer will let your virtualization app of choice work properly.
#4 Confirm Your PC Supports Virtualization
If you've tried all the above steps and virtualization still won't work, chances are your machine doesn't support it. It's worth confirming this before you give up, though.
If you have an Intel CPU, download the Intel Processor Identification Utility. It's a handy tool that helps you know features, packages, intended frequencies, and actual operating frequencies of your Intel processor. Those with AMD processors should download the equivalent AMD tool instead.
#5 I've Enabled Virtualization, but…
Maybe you've gotten virtualization to work after following the advice above, but still have issues with performance or getting a virtual machine (VM) started. Here are some other things to try:
Make sure you download the right version of the operating system you want to run in a VM to avoid compatibility issues.
Make sure you have enough free disk space, or your host computer could run low on space. This can cause performance problems.
Ensure you have enough RAM to dedicate to the VM.
Virtualization is important, easy-to-implement technology that companies of any size can take advantage of. And if you feel overwhelmed with anything related to this topic, just call us today for a quick chat with one of our certified virtualization technicians who might help you out.